Our Worship Team plays and leads the music during our Wednesday evening service
The worship team plays contemporary worship music, from classics to current Top 10 music heard on the radio.
Dedicated to spreading God's word through the power of music, the Chancel Choir of First United Methodist Church is a vital music ministry.
This group of dedicated volunteer singers enjoy singing as an offering to God. The Chancel Choir provides music for Sunday worship three to four times a month, September through Pentecost Sunday in June.
In addition to regular Sunday services, the choir presents seasonal and special offerings.
We invite you to learn more about our choir and join us for rehearsals which are held Wednesday evenings beginning at 7:15 and Sunday mornings at 9:30. Membership is open to anyone with an interest in singing. If you're interested in joining our choir, please contact  Jill Wilson, director.
We trust that you will find participating in the Chancel Choir an enriching, educating and enjoyable experiences.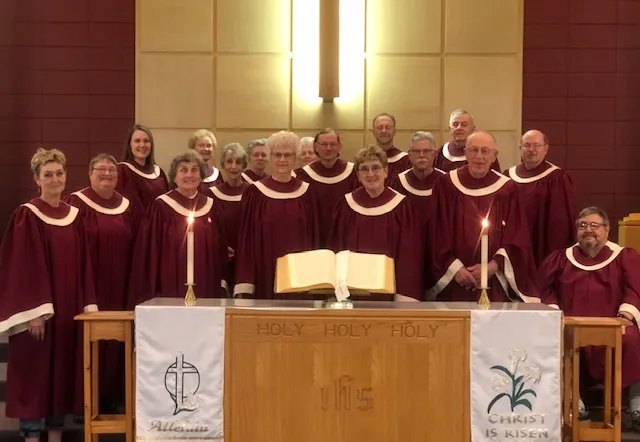 Sue May has been the director of the Bell Choirs at First United Methodist Church since 1997. The handbell program at First United Methodist Church includes three groups and five octaves of bells and chimes.
The Kingdom Chimes are grades 1-5. They learn to read and count music and play traditional songs once a month.
The Agape Bells  Choir consists of 6th grade up through adult playing a variety of music styles.
The Jubilee Bell Choir plays five octaves of bells and chimes. They play a variety of styles and techniques.
Each group practices weekly on Wednesday evenings September through May.