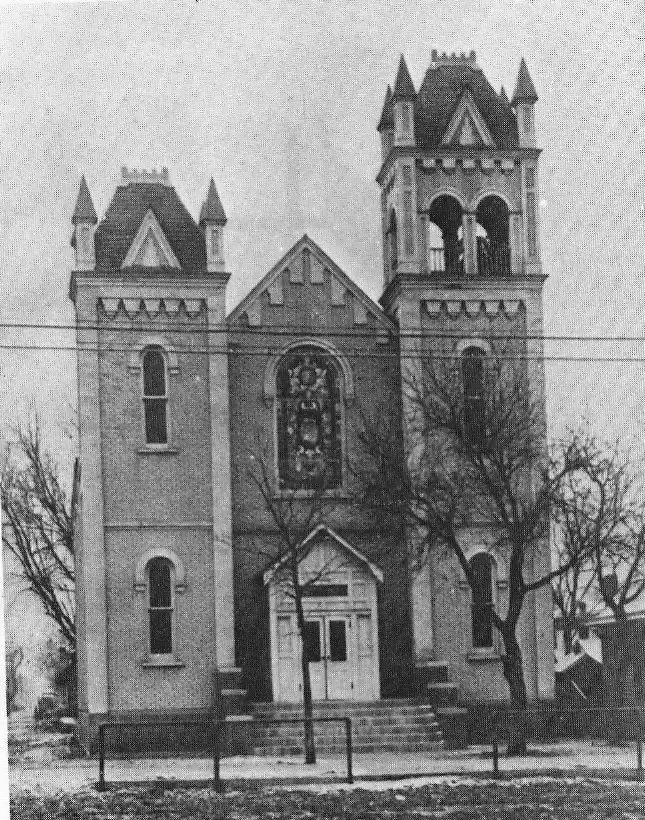 The first Methodist pastor, Septimus Watson Ingham, arrived at Yankton in 1860 with a horse, saddlebags and an umbrella. He described the community as having two frame houses and three log cabins with dirt roofs. Ingham would go on to preach the first Methodist sermon Oct. 21, 1860, in Yankton at the residence of Capt. John B. S. Todd, a cousin of President Abraham Lincoln's wife, Mary.  Only a handful of people attended the morning ceremony due to the arrival of a steamboat. About 25 people came to that evening's sermon, but it was interrupted by a call for someone to help settle a quarrel between drunks. 
In 1861, the congregation found a more permanent home in the Dakota Territorial Capitol, where it met until a church was built in 1874 at Fourth Street and Douglas Avenue.
When the bishop came to dedicate the new church in January 1874, he discovered it was $2,000-$3,000 in debt.
According to Bartlett Tripp, who eventually became chief justice of the South Dakota Supreme Court, the bishop told an usher "to lock the doors and let no man go from the room…until the debt is lifted."
The church was paid for and served as the congregation's home until the current place of worship was built in 1959 at 11th and Cedar streets on property purchased from Yankton College. The building at Fourth and Douglas was sold to members of the Assembly of God but was torn down in 1965 after being sold to the City of Yankton.
Formation of The United Methodist Church
The United Methodist Church was created on April 23, 1968, when The Evangelical United Brethren Church and The Methodist Church united to form a new denomination.
But Methodism in the U.S. dates back to 1736 when John and Charles Wesley came to the New World to spread the movement they began as students in England. United Methodists share a historic connection to other Methodist and Wesleyan bodies.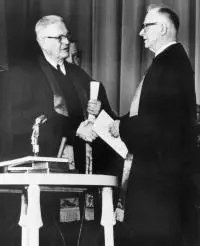 The United Methodist Church has an agency dedicated to preserving the rich history of the denomination.
As United Methodists, we have an obligation to bear a faithful Christian witness to Jesus Christ, the living reality at the center of the Church's life and witness. To fulfill this obligation, we reflect critically on our biblical and theological inheritance, striving to express faithfully the witness we make in our own time.
Evangelical United Brethren Church Bishop Reuben H. Mueller (left) and Methodist Bishop Lloyd C. Wicke join hands on April 23, 1968. Photo courtesy of the United Methodist Commission on Archives and History.